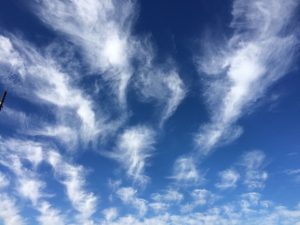 Receiving bad news during our lifetime is a fact.  We may have all confidence that we aced an interview but later get news that another person was awarded the job.  We study for days and even weeks for a school exam and the questions we are prepared to answer are not on the test.  As we get older we are informed that a loved one is not well or someone we care for deeply has passed away.
None of us are exempt from outcomes that are not part of our plan or news that is devastating.  While it may seem that some people are never faced with hardships a day will come later when they too will be faced with some of the things we face today.
Disappointments and sad news happen but we have our loving Father who knew before the beginning of time the exact day and hour we would walk through these times.  It's comforting to know that God is with us.  We go through these difficult times together.  As we keep our focus on how He will bring us through and how He will comfort, it places all burdens on Him to carry.  Walking with Him daily and concentrating on His word, His plan and His accomplishments through us better prepares us for the times of disappointments.
While it's ok to grieve, experience sad times, have shocking disappointments or suffer days when we feel inadequate our minds are settled in advance that God takes care of us.  There will be a day when the degree of disappointments we endure will be to a greater degree given back to us in rewarding times.  He restores joy and He honors trust.
Psalm 112:7   Living Bible
He does not fear bad news, nor live in dread of what may happen. For he is settled in his mind that Jehovah will take care of him.