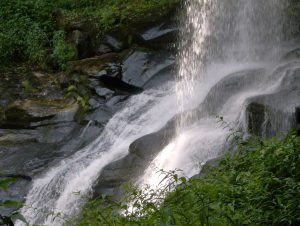 You are standing in line waiting to let the pastor know how much a sermon meant to you.  The person in line in front of you goes on and on.  The next thing you know you are the only one left in line where others gave up waiting.  When it's finally your turn both the long conversationist and the pastor part their ways leaving you standing there alone.  You don't know whether to feel insulted or sorry for the pastor who just listened to a life story.  You are thinking that the person should have set up an appointment if they were going to use that much time.  You are angry, hurt, disappointed and later a feeling of inferiority sets in.  You wonder how you could devote so much time thinking positive things about that pastor and the sermon only to have your recognition of him thrown back in your face.
Other times you will start a conversation with a good friend only to have that friend turn around and start hugging and patting another person on the back like it's a person they haven't seen in years.  You stand there wondering if you should smile and join in with them or walk away.  After all, you don't know that other person.  Those two then walk away together while you are baffled that your friend could be so thoughtless.  What do you do in situations like that?  It leaves you with a sense of not belonging and something that keeps popping up in your mind for a long time.
There are even times when you are in line to congratulate the bride and groom.  The line moves pretty fast but when it's your turn they totally look past your hand because the person behind you in line is one that appeals to them more.  You even go back and get in line again only this time you get a courtesy thank you for coming.  You are thinking that if they could have given you that simple courtesy to begin with you would not have a need to reassure your mind that you are an ok person.
For a long time you wonder if you are the only one that has ever been pushed aside like this.  Then one day a preacher many months later makes a general announcement before the service starts.  He explains that he will be available to greet after the service for any who wish to stand in line but if there is even one person in line behind you please make the greeting brief.
Wow, talk about being excited, that is it.  Finally a pastor notices that these type things happen and too many are all about themselves.  These type of overlooks and inconsiderations hurt people.  Some people may not ever come to church again because these type of rejections are very painful.
We live in a day where things are all about what people can get and not much about what can be given.  However this is no excuse for God's people.  Being considerate in a simple way can bring out the best in people.  It's always best to take a look around first in order to avoid acting  on the spur of the moment and hurt another person deeply.
Colossians 3:12-14  New Living Translation
Since God chose you to be the holy people He loves, you must clothe yourselves with tenderhearted mercy, kindness, humility, gentleness, and patience.   Make allowance for each other's faults, and forgive anyone who offends you.  Remember, the Lord forgave you, so you must forgive others.   Above all, clothe yourselves with love, which binds us all together in perfect harmony.