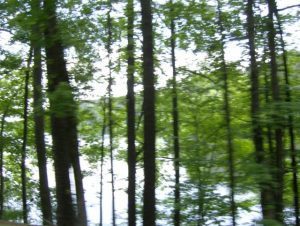 It's all in how we look at things.  This will determine the type of blessings in life.  Lets consider a festive parade for a moment.
There are floats and many bands that parade by.  With all the focus placed on the frills and thrills of the extra decorations most will miss the reason for the parade which is the celebrity waving from one of the floats.
How many times does this scenario happen in our lives where focus is on everything except the main point?  It's important to focus on God first.  After that we can see the decorations in life as an added adornment that points to God.
Isaac, who was the son of Abraham, almost missed an opportunity to marry Rebekah.  If it weren't for Rebekah and her focus being placed on Isaac the wedding may have never taken place.  When they first met, Isaac noticed the caravan of camels whereas Rebekah noticed Isaac.  Once Isaac's focus became toward Rebekah he saw her  beauty and their marriage was instrumental in establishing the tribes of Israel.
When we consider our own lives it's important to consider all aspects before focusing only on outward beauty.  The love of God always comes from the heart outward.
Genesis 24:62-67  New Living Translation
Meanwhile, Isaac, whose home was in the Negev, had returned from Beer-lahai-roi.  One evening as he was walking and meditating in the fields, he looked up and saw the camels coming.   When Rebekah looked up and saw Isaac, she quickly dismounted from her camel. "Who is that man walking through the fields to meet us?" she asked the servant.
And he replied, "It is my master." So Rebekah covered her face with her veil.  Then the servant told Isaac everything he had done.  And Isaac brought Rebekah into his mother Sarah's tent, and she became his wife. He loved her deeply, and she was a special comfort to him after the death of his mother.