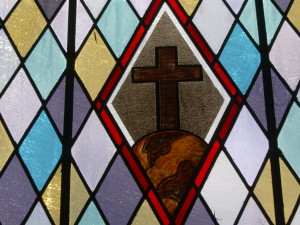 God created the world and every thing on it.  Every moment He is aware of the things going on.  He knew before the beginning of time that this day would come.  Nothing goes unnoticed by God.  Every single detail that lead up to each triumph or disappointment are things He arranged or allowed to be orchestrated for a divine purpose.  He knows the glorious outcome that will be one day.
God holds the whole world in His hands.  He holds each person in His hands.   Therefore it is logical to believe that God has all things in His capable control. 
Some are afraid to let go of painful emotions for many reasons.  If we let go and let God, He will not forget.  If we place our trust in God things will not progress to a worse situation than what He allows.  To continue to grasp onto hurts is like standing on the palm of God's hand and trying to lift the world up off His palm.  Through Jesus Christ nobody has to carry such impossible burdens.  In all things there are divine answers.  The answer may not be immediate but it will be on time.
John 20:29
Then Jesus told him, "You believe because you have seen Me. Blessed are those who believe without seeing Me."
Psalm 62:8
O my people, trust in Him at all times. Pour out your heart to Him, for God is our refuge.