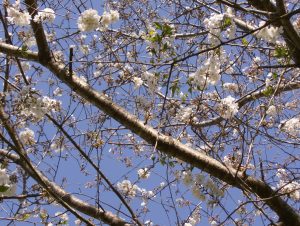 God provides earthly protection from heavenly angels.  When we call upon God for His divine protection and strength He orders angels to uphold us.
They provide a hedge of protection meaning there are more than one to create the hedge around us.  The Bible refers to millions of angels praising God in heaven.
Jesus told His disciples that at any time He could call on God and He would provide angels to rescue Him from the cross.  However Jesus followed through on His plan of salvation for us.  When Jesus finished His forty days of temptation in the desert, angels ministered to Him at the end of the temptation.
Just like Jesus was sent angels by God to lift Him up, He will do the same for us.  These angels are all around us and serve in many ways.  They are strong and durable yet comforting.  They provide a peaceful coolness in the room after a beloved brother or sister in Christ is received into heaven.  They also stop a train on its track just before hitting a stranded person.
The service of angels have a broad range of ministries and they are all around.  When we call upon God and trust Him in all things, He can do all things.
Psalm 91:9-12  New Living Translation
If you make the Lord your refuge, if you make the Most High your shelter, no evil will conquer you; no plague will come near your home.  For He will order His angels to protect you wherever you go. They will hold you up with their hands so you won't even hurt your foot on a stone.