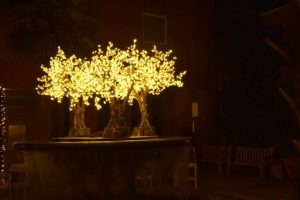 Have you ever known somebody that gives you an uneasy feeling whenever they are around?  While others are bragging on this person and how sweet they are you sense something isn't quite right.  You start to notice little things that others do not notice.
You may work as a file clerk.  While others bring you things to file throughout the day your friend waits until almost time to leave before bringing you a ton of things to file.  The files are out of order and it's time consuming to file.  She brings you these files with an angelic smile on her face.  Nobody notices but you. 
There are numerous ways your friend can set up these hardships for you while others think she's the finest person on staff.  This person never raises her voice.  In fact she is always kind, especially in front of others.  However her kindness becomes more kind as time progresses.  The longer you do not react the nicer she gets while her set ups for you get more intense.  You endure hardship after hardship at the hands of this person.  The hardest thing to bear is being all alone in this situation.  Others brag in your face about how your friend will give the shirt off her back while you make a forced smile and nod.
Your heart is broken.  You are angry.  You are upset on the inside while on the outside you have to be the greatest actor that ever lived.  Your spiteful friend knows this even though you act differently. 
This situation is a prime example of a spiritual battle that only a discerning heart would know.  The devil is once again using person against person to create his turmoil for those of you who love Jesus.  You are in a situation where you cannot tell anybody but God knows.  God awaits your prayers to invite Him to partner with you in getting this situation resolved.  While your friend is arranging for nobody to know but her, you are arranging for God to shine His face in this situation.
God has numerous ways of dealing with people that continually set traps for others.  Sometimes God will choose for others to have a snare set by this same person in order for two people to know.  Other times a person like that will be noticed as the trap is being set and confronted about it.  Still other times God chooses to move this person to a different location or even you to be promoted.  It all works out when you place your trust in God in these spiritual battles.
Mark 4:2  2New Living Translation
For everything that is hidden will eventually be brought into the open, and every secret will be brought to light.