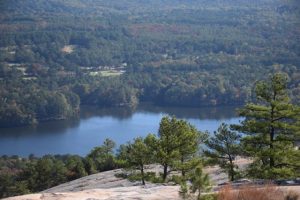 Imagine this: You are invited to stand beside Christ in heaven for only a moment.  He allows you to see things how He sees them.  There you stand beside the radiance and brilliance of Christ Himself Who is surrounded by light so glorious you cannot even look His way.
He points to earth which is the size of even the smallest grain of sand you have ever known.  Then He makes reference to you and your size which cannot be seen with the naked human eye.  The prayer request you have been making for days, weeks, months or even years that seem bigger than the world do not match a puff of smoke when compared to heaven.
Then God allows you to return back to the earth surrounded by that situation that is so huge you don't know how it will ever end.  Now God allows you to understand that the greatness you experienced in your visit to heaven can now engulf your prayer request.  All of heaven opens up and focuses onto the object of your prayer request.
For God, nothing is too hard.  Now it's up to you to remove all human barriers that keep our thoughts focused on the situation or human reasons why things are impossible.  For each barrier removed is one more open door to the faith that pleases God. 
Resist the thoughts of the devil and they will flee.  Jesus said many times while He was on earth faith has healed.  To get that faith is to think outside the box of barriers because through Christ there are no barriers. 
Ephesians 3:20-21  New International Version
Now to Him Who is able to do immeasurably more than all we ask or imagine, according to His power that is at work within us, to Him be glory in the church and in Christ Jesus throughout all generations, for ever and ever!  Amen.