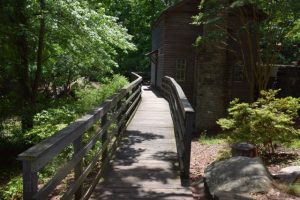 Each moment of each day is made up of decisions.  Some decisions are as simple as matching socks to the outfit we put on.  Other decisions are based on determining factors such as traffic and choosing an alternate route.
The most important decision is to accept Christ as our Savior.  Daily decisions of time spent alone with Him or praying over situations are of the utmost importance because His guidance saves us from a multitude of hardships.
When we are faced with situations in life that devastate us in a serious way, it's the moment by moment decisions made with God's guidance that help get us through.  How would God want us to conduct our attitudes during rough times?  How would He want us reach out to someone who is hurting worse?  How would He want us to spend out quiet time?
Paths are walked only one step at a time and when we walk with our Lord, He will light each step, no matter how small.
Psalm 25:4-5  New Living Translation
Show me the right path, O Lord; point out the road for me to follow. Lead me by Your truth and teach me, for You are the God who saves me.  All day long I put my hope in You.