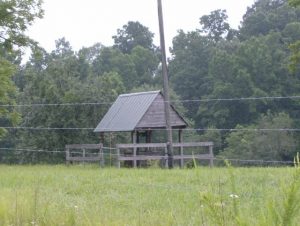 We can trust God always to give His divine answers to even the deepest of earthly problems.  When results of prayer seem so far in the future that it's hard to imagine any change, we can be assured of an answer far beyond anything we hope for.
Jesus gives many examples of drawing water from a well.  Even in the old testament people dug deep wells.  The deeper the well the fresher and cooler the water.  When we lower our buckets on a rope into a well we know there will be fresh water pulled up.  We cannot see into the well because it is a long dark tube but we trust there is water at the bottom.  We see the rope unwinding and the deeper the well the longer the wait for the rope to finally stop unwinding.
It's the same with prayer.  We know we are praying, waiting and believing yet our rope continues to unwind toward heaven.  Sometimes we wonder if our prayer will ever reach Him yet we know that He heard us even before we spoke. 
When it becomes time to draw the bucket back up it is heavy.  It takes a long time.  Our arms hurt more and more the closer it gets to the top of the well.  Many times immediately before we see the results of prayer are the hardest times to endure.  We are weary from the long wait and the feeling of despair grips our hearts because things seem to be getting worse.  However there becomes a day when beautiful answers burst forth.  Like a bucket of cool water from a very deep well is both rewarding and refreshing, so is the answer to our prayers from God.  The deeper and more intimate the answers are to our prayers, sometimes means the wait is longer.  It is these type answers that are an encouragement to others to trust in Jesus.
Hebrews 11:1
Faith is the confidence that what we hope for will actually happen; it gives us assurance about things we cannot see.