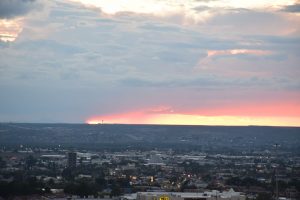 Covering the truth is like putting a barrier on a major road.  People cannot reach their destinations without taking detours delaying their arrivals.
When we fail to do what we are supposed to and we ignore the warning signs of a pricked conscience we place an obstacle in the way of our communication with God.  We know we should be truthful with God and make things right but our natural instinct is to turn our faces away from Him.
We feel embarrassed or we become prideful about making things ok.  We know that God already knows yet we still try to make excuses or get busy in order to block the waves of unrest from our consciences.
However the conscience is how God directs our paths.  He understands that we occasionally slip up and say or do the wrong thing.  God understands the times we make a deliberate effort to have our way knowing it's wrong.  While these things are not ok, God loves us so much that He will work with us to get things right.
Ignoring the convictions only prolongs the unrest in our spirits and hardens our hearts.  All that is needed is a time out to genuinely speak to God acknowledging our mistakes.  Pray for those we may have harmed then seek God's guidance about moving ahead.  This will break down the barrier and peace will calm us allowing us to move closer to God.
When we are truthful with God concerning all things His genuine love will meet with truth allowing His righteousness to smile on us from heaven. 
Psalm 85:10-11  New Living Translation
Unfailing love and truth have met together.  Righteousness and peace have kissed! Truth springs up from the earth, and righteousness smiles down from heaven.