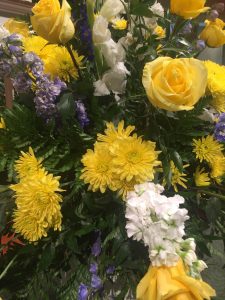 Have you ever wondered what is so great that would take God many weeks, months or years to prepare?
Many times the greatest blessings are those coming after the worst trials.  The devil will always want to discourage you to the point of giving up before the blessing gets to you.
During these discouragements God can always be found through prayer, encouraging words from others or unexpected thoughts that come to mind.
Joseph was in jail.  He was falsely accused by Potiphar's wife.  It wasn't long before he was accompanied by the cup bearer and baker.  The baker represents the body of Christ which was broken for you and the cup bearer represents the wine and the blood shed that still heals today.  Even in jail Christ visited Joseph in a beautiful way.  Even though Joseph was forgotten for another two years the blessing was well worth the wait.
What are you still trusting God for that will be worth your wait?  In the mean time Christ can be seen in all things.
James 1:2-4  New Living Translation
Dear brothers and sisters, when troubles of any kind come your way, consider it an opportunity for great joy.  For you know that when your faith is tested, your endurance has a chance to grow.  So let it grow, for when your endurance is fully developed, you will be perfect and complete, needing nothing.