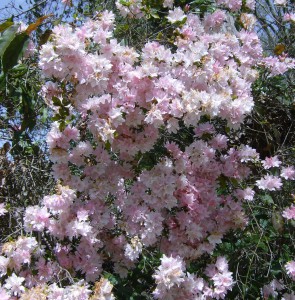 That certain fruit tree stands in the middle of the garden.  It's not that the certain fruit on the tree smells any sweeter or is more beautiful.  In the garden of Eden, all fruit trees are beautiful.  They are attractive to look at, to smell and to taste.  The one thing that makes that one tree stand out more than others is the word "no." 
Those two letters cause more temptation than anything else.  Something about not having makes us want to have.  The devil knows how to make "no" so irresistible that it gets people into trouble all the time.  Once overcome by temptation the disappointment sets in.  It's never as good as it seemed.
We have a Father in heaven who loves us and He understands.  Whether we are fighting temptation or the disappointment that comes afterwards He loves us.  There is no temptations that come to us except what is common to man and God provides the way of escape.  Jesus saves.  Jesus loves.  Jesus teaches us how to avoid traps.  Jesus understands.
Hebrews 4:15-16
This High Priest of ours understands our weaknesses, for He faced all of the same testings we do, yet He did not sin.  So let us come boldly to the throne of our gracious God. There we will receive His mercy, and we will find grace to help us when we need it most.