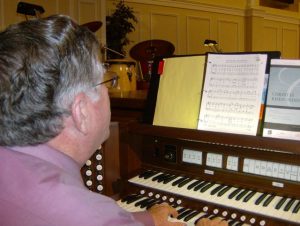 Our Lord inhabits the praises of His people.  When large crowds gather to sing praises and play musical instruments honoring our Lord, He is present.
Many churches have choirs and orchestras.  There is something special about talents coming together to create a joyful noise unto our Lord.  The more voices in the choir the more glorious the sound.  The more people blowing trumpets and playing other musical instruments the grander the praise.  Add to it the joyful ringing of bells and the brilliant sound of an organ and there becomes a prayerful unity of all who listen.  All focus is on Jesus Christ.
2 Chronicles 5:12-14  New Living Translation
And the Levites who were musicians—Asaph, Heman, Jeduthun, and all their sons and brothers—were dressed in fine linen robes and stood at the east side of the altar playing cymbals, lyres, and harps. They were joined by 120 priests who were playing trumpets.  The trumpeters and singers performed together in unison to praise and give thanks to the Lord. Accompanied by trumpets, cymbals, and other instruments, they raised their voices and praised the Lord with these words:
"He is good!  His faithful love endures forever!"
At that moment a thick cloud filled the Temple of the Lord.  The priests could not continue their service because of the cloud, for the glorious presence of the Lord filled the Temple of God.