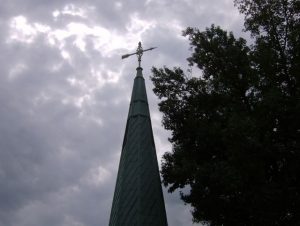 God inhabits the praises of His people.  The Bible is very specific when scriptures tell us to sing or play instruments.  A joyful noise of praise from the heart pleases God.  God has gifted numerous people with precise skills on certain instruments and others to give praises with a beautiful voice.  Still others praise within a crowd to create an atmosphere of worship.
All voices and musicians God sends to a church are to join in together.  One church leader put things beautifully when he stated that he selects his music based on the people God sends.  He said he would never select the Hallelujah Chorus if he does not have a first tenor to sing the part.  Using wisdom with matching the abilities, skills and number of musicians to the music is how a leader maximizes the potential of who God sends.
God makes no mistakes in who He sends to serve at a church.  Some churches are blessed with a gifted organist, instrumentalists, singers or band players.  When God sends talents to a church He will also let it be known how each person can be used.  Unfortunately a trend has evolved and a lot of praise musicians are tossed aside.  The organ and choir, for example, has been tossed aside to be replaced by small groups of singers and bands.  Why not use all people?  God has a place for every musician to be used.  Music leaders should also appreciate and make a place of service for the musicians God sends.
This growing trend of abolishing choirs, orchestras and organists is astonishing and depressing.  God sends people to serve and when services are not needed people move on.  For each one who moves on they take with them their family and many times their friends.  This is proof that Jesus is correct in saying that if the people do not praise Him the rocks will.  People long to praise.  It's a part of our spiritual lives and well being to praise.
It's astonishing the number of churches closing their doors because too few people attend.  Unfortunately many times it starts with limiting the number of people who are allowed to praise and sing.  A healthy worship experience includes everybody.  If two people come each week to praise and both play banjos and several people play a trumpet, it's the right thing to do to use these people each week.  God sends these specific people for a specific reason.  There is nothing more lonely than to see a gifted musician sitting in the pew and told not to serve because it doesn't fit a particular sound that may or may not please man.  God cannot grow a choir, orchestra or even a congregation if most people are tossed aside.
The music speaks.  People long to be used each church service.  In God's house there is a place for everyone.  If people are continually being turned away or told to sit in a choir as a courtesy but not serve, is it really a joyful noise?  God sends these musicians for His own reasons.  Use them.
2 Chronicles 5:13  New Living Translation
The trumpeters and singers performed together in unison to praise and give thanks to the Lord.  Accompanied by trumpets, cymbals, and other instruments, they raised their voices and praised the Lord with these words: "He is good! His faithful love endures forever!"  At that moment a thick cloud filled the Temple of the Lord.