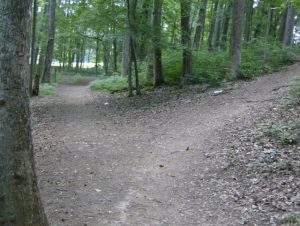 There are numerous times we are faced with decisions not knowing which one to choose.  Sometimes the choices are obvious such as school assignments.  Do the assignment and get a grade or not do the assignment and fail. 
The biggest and greatest decision in life is the one we make to accept Christ as our Savior.  This will enable us to spend an eternity with Him.  This pathway may not be the easiest because of the opposition from those who do not believe but it's the pathway that leads home.  Otherwise the ways of the world that offer a lot of temporary splendor and bliss lead to nowhere and ultimately eternal punishment.
The most difficult fork in the road is the one where we do not fully know the outcome of either decision.  The biggest red flag warning telling us to wait are the decisions where someone is pressuring us to make a decision right now.  There are all kinds of deadlines and loss of rewards if a decision isn't made immediately or it will be the only opportunity and no other.  God is never in a hurry and He is patient.  High pressure to make instant decisions is the perfect time to make no decision at all no matter how it looks.  Other times when faced with a fork in the road we ask ourselves, will the decision glorify God or personal desire?  To choose the path that will glorify God more than instant gratification will come with rewards we do not instantly see.
Matthew 7:13-14  Living Bible
Heaven can be entered only through the narrow gate! The highway to hell is broad, and its gate is wide enough for all the multitudes who choose its easy way.  But the Gateway to Life is small, and the road is narrow, and only a few ever find it.