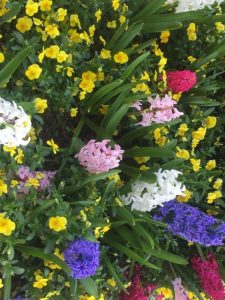 We see undesirable habits of people every day, especially driving down the road.  Someone passes us then cuts us off just to get one car length ahead then slows down to exit immediately afterwards.  In our minds we are thinking all kinds of names to call these people but realistically it's an opportunity to kindly forgive and make an allowance.
In our work place is an employee or boss who makes our day miserable on the job.  We want another job for us or them but it doesn't happen.  We rehearse in our minds all types of cutting remarks to put them in their place.  However a quick compliment to them about how they handled a particular client will create an opportunity for them to redirect their thinking, at least for a few moments.
Someone has a bad day and rakes us over the coals with a heated retort for no reason.  We feel our anger starting at our feet quickly moving up to our lungs ready to retort.  What if we responded with a simple smile and ask them will there be anything else?  Usually this will quench the fire quickly.
We are instructed to love God and our neighbors as we love ourselves.  Many times our show of love is challenged by strong opponents.  These days people are unhappy, lonely and empty especially since God has been removed from public places.  When they see peace and contentment in another person it's a reminder to them of their emptiness so they lash out.
Loving unlovable people is a matter of being gentle and kind no matter what attitude they display.  We do not have to spend a long time talking our point of view or showering them with praise.  With most people it takes only a smile or a simple holding a door to allow them to go first.
Love comes from our hearts and touches the hearts of others.  With the love of Jesus Christ living in us, He will do the talking for us as we display a humble kind spirit toward others.
Ephesians 4:1-3  New Living Translation
Therefore I, a prisoner for serving the Lord, beg you to lead a life worthy of your calling, for you have been called by God.  Always be humble and gentle. Be patient with each other, making allowance for each other's faults because of your love.  Make every effort to keep yourselves united in the Spirit, binding yourselves together with peace.