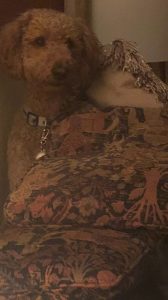 Many refer to a pet dog as man's best friend.  A new puppy takes a lot of harsh disciplining and the puppy may sulk for a while but when the master motions with a kind gesture he is quick to wag his tail and trust again.  This type of discipline is needed for a puppy to grow into a valuable friend.  If a master takes the time to groom a dog into a show dog or a service dog, even more harsh discipline is required.  With the right master a dog can become an asset to many hurting people.  A good master will always reward for hard work.
We are totally different than any animal but there is something to be learned in the prompt forgiveness and positive change of attitude of a dog. Our obedience to God helps us to steadily grow into His likeness.  We are a work in progress while we are on earth.
God's continuous discipline is proof of His love.  It is a demonstration He is always right here with us.  It's the same with a loving master toward his dog.  It takes years of grooming and training and that is only the beginning.  There will be days ahead when the work and training that has gone into us will get a chance to solo for God to see. 
A master and his dog is a prime example of how discipline, devotion and hard work pays off.
Just like a dog's master is pleased with the showmanship of his years of grooming his dog, so it is with God and us.  We walk through many trials and disciplines but He is pleased to have us as His child.
Proverbs 29:17  Living Bible
Discipline your son and he will give you happiness and peace of mind.