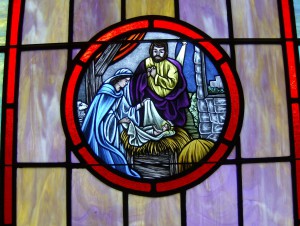 People stand in the streets for hours outside a hospital waiting for the announcement of the birth of a prince.  Bells ring, people rejoice, camera flashes light up the city block and newspapers announce the birth of this prince.  As he grows there will be even more press, cameras and attention.  He is the focus of many people who want to know every move he makes.  This prince is an idol for many.
2000 years ago the Prince of Peace was born in a stable.  People traveled miles on foot to see the Savior God told them about.  There were no cameras or press releases.  As He grew older people gave attention to how they would get rid of Him.  His truth offends those who do wrong.  The Prince of Peace was crucified yet He overcame death.  He saves all who believe and accept Him as Savior.
This earthly prince saves no one.
Luke 2:11-15
 Today in the town of David a Savior has been born to you; he is the Messiah, the Lord.  This will be a sign to you: You will find a baby wrapped in cloths and lying in a manger."
 Suddenly a great company of the heavenly host appeared with the angel, praising God and saying,
 "Glory to God in the highest heaven, and on earth peace to those on whom his favor rests."  When the angels had left them and gone into heaven, the shepherds said to one another, "Let's go to Bethlehem and see this thing that has happened, which the Lord has told us about."