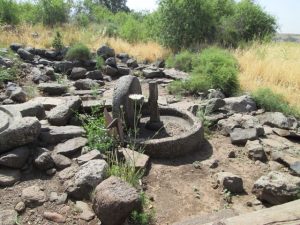 While some people seem to never have a care in the world or face any hardships most of us do.  There are difficult situations that come and go but others seem to linger.  We are never given a choice of which problems come to us but we do have a choice of how we respond.
In all things we can rely on Christ Who is always consistent.  He never changes making Him the most reliable source for peace.  Whether our adversities are a result of poor choices or a result of chance God hears our prayers.
When we put our hopes and trust in God we can be sure He will walk with us through even the toughest times.  Many times He will not remove the circumstance but He will show His face to us.  He guarantees our trust in Him will result in our character being strengthened and we will never be crushed.
During these times when we feel pressured from all sides God is enduring this with us.  While we walk through years of adversity from the same source with no end in sight God is upholding us with His righteous right hand. 
On earth the finest flour comes from wheat ground with the toughest grinders.  The choicest olive oil comes from the hardest presses.  The most useful people in the ministry come from people who have experienced the roughest hardships. 
2 Corinthians 4:8-9  New Living Translation
We are pressed on every side by troubles, but we are not crushed. We are perplexed, but not driven to despair.  We are hunted down, but never abandoned by God. We get knocked down, but we are not destroyed.