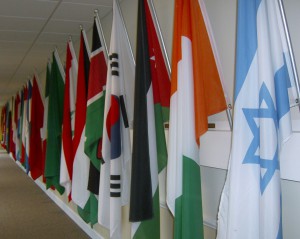 It doesn't matter who is Baptist or who is Catholic, or who worships on Saturday or who worships on Sundays.   God created us equal.  It doesn't matter who is Italian or who is Mexican or who lives in a home country or who lives away from their own country.  God created us equal.  Jesus is a relationship to anyone who will accept Him. 
To smile at a stranger may be the only example of the Bible some may ever know.  Wear the name of Jesus from the heart outward.  The world will be a better place.
Colossians 3:12
Since God chose you to be the Holy people He loves, you must clothe yourselves with tenderhearted mercy, kindness, humility, gentleness, and patience.