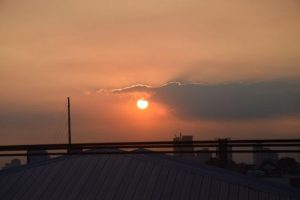 It happens to us all. Occasionally there will be a day or series of days when things go from bad to worse.  We walk out to the flower garden to water and there is a rake that somehow got hidden in the grass.  When we step on it we get hit in the face with a pole.  After a shower we spray air freshener on our underarms instead of the deodorant.  We leave to go to work or school and the car will not start.  These type things can ruin a day quicker than anything. 
The devil delights in throwing surprises into our day to get our focus on the bad and not the good. 
Joy comes from the heart and anything the devil may do to discourage us enters through the mind. 
Peace comes from God and the assurance of salvation through Jesus Christ.  He will never leave nor forsake us.  All storms pass as we continue to move ahead.  In order to counter attack these fiery darts from the devil, focus on what is good, true and right.  We may get hit in the face by a pole but the dog comes when we called him.  We may have sprayed on air freshener instead of deodorant but there is time to sponge off and use the right thing.  The car may not start but we meet a new person who comes to help out.  He will keep us in His bosom until the storm passes.
Psalm 57:1  Living Bible
O God, have pity, for I am trusting you! I will hide beneath the shadow of your wings until this storm is past.