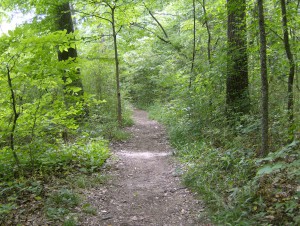 Step by step we move closer to God.  Obstacle after obstacle is thrown in our path by the devil.  By grace we step over them and press on.
There is one word God commands of us, GO.  Reach the lost. 
Sometimes painful pasts are difficult to let go and it holds us back.  As we hold on to the past, it is no longer our past but our present as well.  Letting go of a past can be a battle ground all its own.  It is a continuous training of the mind to put it aside.  This is the first obstacle thrown at us.  The obstacle of feeling unworthy or worthless is like being stuck in the mud on a rainy day.  There isn't any way to move and wheels just spin.
Jesus loves us and forgives us.  Our present time is with a clean slate because we are a forgiven people.  Because of Jesus we can take a painful past and place it on the ground to be used as a first step upward.  As we make the step of faith, His road will rise to meet us.  He never intends for us to battle this on our own.  We are on team Jesus.  He will handle the past.
Romans 12:19
Beloved, never avenge yourselves, but leave it to the wrath of God, for it is written, "Vengeance is mine, I will repay, says the Lord."