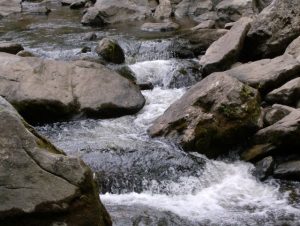 There are times we feel like people get away with all types of wrongs done to us.  We pay the consequences of their actions toward us while they seemingly get by with what they have done.  Days, weeks and even months are spent picking up the pieces of what they shattered for us.
Sometimes the wrongs done toward us are false accusations causing people for many years to see us for things for which we were accused.  People don't even know us but yet they still hold us back thinking we are the person that another generation accused.  While we continue with life knowing certain doors are closed to us we wonder how these people keep getting by with it.
On a larger scale when we pay consequences of decisions made by ones who oversee us we waver in our faith.  We trust in good faith our boss, local officials or national officials will represent us properly but it seems they get by with their actions when they mistreat us.  Not only do these people people get by with their mistreatments to us, many of them prosper at our expense.  While things are unfair and we pay consequences God tells us to keep our faith and trust in Him.  We are not to fear no matter how things seem to be.
God's timing is almost never our timing and the way we look at things are usually different than how God sees them.  God deals with the heart while we want to see our enemies demolished.  It's disappointing many times when we don't feel like a victor but God still has other plans.
The Bible speaks very clearly about how their demise comes abruptly and harshly.  While they flourish on earth they will soon hit a brick wall in life they will not be able to handle, or their age will cause them to come to the end of their life where they will meet their eternal doom.  Other times the vengeance is taking place slowly and it goes unnoticed.  When God turns His back on a situation or a group of people they become confused.  Confusion should be evidence that God has stepped away and those people don't even realize they are confused.  They make illogical decisions, statements that are laughable and display pride while God watches. 
We can count on God's protection during the pomp of those who mistreat us because He never leaves nor forsakes us.  While God watches over those people He watches with us.  We still have His favor and His care.  We still have 24/7 communication with God through Jesus Christ.  We know God stands with us through all things and a day will come when He will reveal His workmanship to us.  He is worthy to be praised at all times.
Leviticus 19:18 Living Bible (TLB)
Don't seek vengeance. Don't bear a grudge; but love your neighbor as yourself, for I am Jehovah.