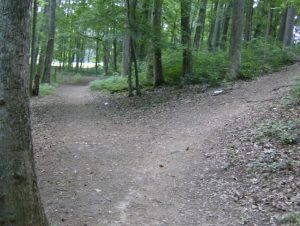 Some things in life are obvious.  A person makes wrong choices and it's easy for us to see where their path leads.  While they prosper for a certain length of time consequences will catch up to them.  We pray that they will change their ways with as few consequences as possible but they get worse.
When we pray we ask for God's protection on them and that they will mend their ways.  We ask God to send people into their lives they will listen to, or some type of a raise or promotion to be given to them so they may grow to fit the position.  Somehow they continue to spiral out of control on the wrong path.  They may improve for a short time occasionally which brings us false hope their ways are mended, but the next stroll down the wrong path is even deeper than before.
Does God not hear our prayers when we really care about someone?  God hears us very well and He responds each time.  We see small results and hope our loved one will turn around but they only rebound back once again to old habits.  What's missing? 
God speaks to our loved one who listens but loses track.  It's possible our loved one doesn't listen at all and the devil brings false hope to us with a short reprieve from bad habits.  The only thing we have not done is to use the authority invested in us by Christ to bind the devil.  Prayer is a powerful privilege God has given to us through Jesus Christ.  God makes it known that the habits of our loved ones are inspired by the devil and our loved one is responding to the prompts of the devil.
While it's easy to become discouraged or even mad at our loved one our battle is not with them but instead spiritual powers.  These battles are fought on our knees.  We have the authority to pray forcefully against the powers of darkness in the name of Jesus which will bind the devil.  It will be at that point more room is made spiritually for God to do greater work.  Our prayers should continue for God to do a great work.  However there is one thing to keep alert for.
Things may get worse before they get better.  The devil doesn't like a confrontation.  Just like spraying an ant hill to destroy it, they will fight with everything in them to hang on to their turf.  If things indeed become worse after a sincere prayer count it joy.  Results are happening.  It's ok to get others to pray for us as we pray for them.  God is stronger than the whole legion of angels of darkness.  The battle is won and the next thing to do is give thanks to God for Who He Is.  God can do all things because He Is All.
2 Corinthians 10:3-5  Living Bible
It is true that I am an ordinary, weak human being, but I don't use human plans and methods to win my battles.  I use God's mighty weapons, not those made by men, to knock down the devil's strongholds.  These weapons can break down every proud argument against God and every wall that can be built to keep men from finding him. With these weapons I can capture rebels and bring them back to God and change them into men whose hearts' desire is obedience to Christ.