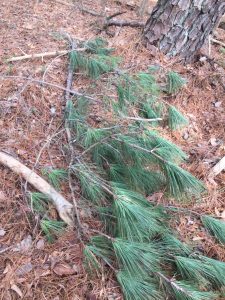 There are many things in life we walk through and the emotional pain remains long after the situation passes.  At times we will still feel the sting in our hearts where a person bullied us as a child.  Many times the memory of an adult who has long since passed away will bring tears to our eyes.  That adult possibly mistreated us leaving us with a sense of worthlessness or a kind mentor who passed away leaving us all alone.  We thought we were healed.  We thought we forgave but the memories are still strong and have power over us.
When we do not feel God's healing it's easy to think God has not touched our hearts.  God's healing process can take a long time.  While God answers prayers quickly, most of the time before we even pray, the results do not become evident right away.
Answered prayers are like what we refer to as live plants that have been cut off from the root or vine.  A Christmas tree is killed the minute it is sawed down.  It's beautiful and is carefully decorated for many to enjoy but it's still a dead tree.  It's not long before limbs dry out and fall off and eventually the tree is cast aside.
God answers our prayer and our problems do not appear to be over.  Hurts are like brier bushes that have been sprayed and cut off but the briers are still very real sticking deep into our skin causing us to sting and sometimes bleed.  That bush is dead but the effects continue.
It's difficult to accept these type of answers as God's way of speaking to us about things in our own lives that may be keeping things going.  We forgive but have we told God it's ok if He needs to still use this hurt to groom us?  This is probably the hardest prayer to make.  We are still hurting and we want things to be ok in our hearts so we can find peace.  At the same time we stumble over words granting God permission to use these hurts to shape us for His purpose.  It is in brokenness that God pulls out beauty. 
Humility even during grief allows God to intervene fully.  The more we allow God to intervene in situations, the less important we become in solving problems.  It is at this point God can fully heal us.
Psalm 145:14-19  New Living Translation
The Lord helps the fallen and lifts those bent beneath their loads. The eyes of all look to You in hope; You give them their food as they need it.  When You open Your hand, You satisfy the hunger and thirst of every living thing.  The Lord is righteous in everything He does; He is filled with kindness.  The Lord is close to all who call on Him,  yes, to all who call on Him in truth.  He grants the desires of those who fear Him;  He hears their cries for help and rescues them.