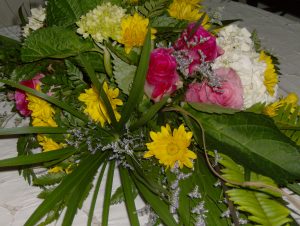 There is no greater sacrifice than Jesus giving His life for our sins so we can spend eternity with Him.  Chances are the greatest hurt to Jesus are those who do not accept His love and could care less.  Those people are loved and the hairs on their heads are numbered.  Jesus thinks about us all day and night because He loves us that much yet some still do not care.  Jesus loves each of us enough to pay His life and will accept us unconditionally when we come to Him for salvation.
What does Jesus get in return for such a great sacrifice?  He sits at the right hand of the Father and has full charge of everything.  He and our Father are One.  Jesus has the highest honor in all eternity. 
When we follow the example of Christ in obedience it comes with many sacrifices and rewards.  Jesus told His disciples to follow Him.  They left behind jobs, family and friends.  Their opposition from people of the world was brutal but God used them to build churches, spread the gospel and bring multitudes of people to Christ. 
Sometimes today when we draw nearer to God through Christ our opposition can be discouraging.  One of the hardest things to bear is losing friends or family because they do not like the feeling of conviction.  Others will encourage us by assuring us it's nothing we have said or done but instead Who we are becoming more like.  When we look at the friends and family that no longer speak or treat us harshly it's one of the saddest things we can endure.  It's hard not to want to backslide just to get certain family or friends to speak again but spiritually it's a chance to endure.  It's an opportunity to sacrifice what we consider our best earthly possessions for the sake of God's glory.  It's considered the same either way, whether we are the ones to leave or others leave us the rewards are great.  God will use all willing vessels to further the truth that sets people free.
Mark 10:29-30  New American Standard Bible
Jesus said, "Truly I say to you, there is no one who has left house or brothers or sisters or mother or father or children or farms, for My sake and for the gospel's sake, but that he will receive a hundred times as much now in the present age, houses and brothers and sisters and mothers and children and farms, along with persecutions; and in the age to come, eternal life.