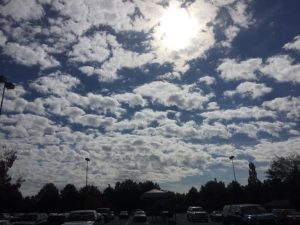 With a voice of singing let it be known that Jesus is Lord.  Many sing and many accompany but which ever we do, let it be lifted up to our Lord.  Many will say they don't know how to sing but singing is any voice raised up to glorify God.  Some will say they have no words to sing.  Words are in the Psalms.  Pick any one of the 150 and lift it up as a tune to God.  It doesn't have to be in tune and it doesn't have to coo like a dove.
A sincere song from an honest heart honors God and He will inhabit the praises of His people.  Music is universal both on earth and in heaven.  When we praise God we praise along with the ones already in heaven allowing us to join at the very throne of Christ.
Jesus is worthy to be praised.
Colossians 3:16  New American Standard Bible
Let the word of Christ richly dwell within you, with all wisdom teaching and admonishing one another with psalms and hymns and spiritual songs, singing with thankfulness in your hearts to God.