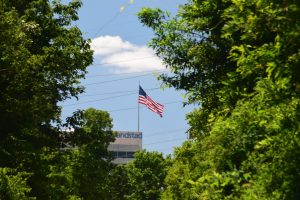 It's true that there are no perfect people, only Jesus Christ.  There will always be differences of opinions because we are all made differently to fulfill specific purposes by God.  He also knew from the beginning of time who would hold high offices in the nations and these people fit the plan of God for the time they serve.
While we may totally agree, totally disagree or partially agree or disagree with a particular head of a nation there is still the ultimate authority.  We look on social media and the news hours and frequently see people criticizing the way authorities do their job.  What if the time spent criticizing was spent in prayer to to the ultimate authority.  After all, the prayers of a righteous man accomplishes great things.
It may comfort our minds for a short time to vent on social media to any who will listen but people remember these posts.  Unfortunately many people will not remember exactly what was said in the post but they will remember us and our attitudes for a long time.  Do we want our attitudes to represent one of being disgruntled at a man or woman appointed by God, or do we want our attitudes to be one of prayer that can promote change.
Romans 13:1-3  Living Bible
Obey the government, for God is the One who has put it there. There is no government anywhere that God has not placed in power.  So those who refuse to obey the laws of the land are refusing to obey God, and punishment will follow.  For the policeman does not frighten people who are doing right; but those doing evil will always fear him. So if you don't want to be afraid, keep the laws and you will get along well.