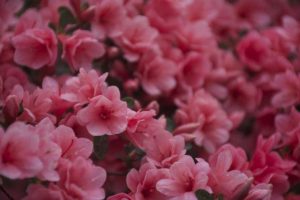 Imagine our worst enemy sitting next to us.  They sit and say nothing but inside of us becomes tense and we feel our anger start to boil.  This person did us wrong in a horrible way and we still experience the consequences of what they caused.  How do we pray for such a person when they continue to do us wrong.  Vengeance seems to never come to them.  In fact they appear to prosper in all they do while they continue to hurt us and our friends.
What if all feelings were removed and we do not remember the things they did to us?  We would see that person next to us and the need to take vengeance would not be there. 
When feelings are taken out of the equation we see another human being.  This enemy of ours is just as much of a masterpiece created by God as we are.  Seeing him/her in His light can help us see beyond their need to hurt others and get a more realistic understanding that they may be hurting too.  Their actions could be the result of someone wronging them long ago.  This type of compassion makes it easier to pray for them in love the way God would have us do.
Many times we are concerned that taking this step might make God forget our hurts and what all they did but that's not true.  God is fair and He shows no favoritism.  Praying for our enemies sincerely will help to remove the burden of wanting to pay them back over to God. 
The hurt they caused us is something that weights us down, especially when we see no payback.  As long as we carry such a heavy weight we cannot progress in our journey to become more like Christ.  As we become more considerate of our enemies and their hurts God takes our hurts and grows and comforts us.  He can also deal with them as these type prayers release them over to Him.  While it remains true that their actions toward us is not right God will honor our prayer when we acknowledge them as His loving creation.  God will see to it all comeuppances are dealt in His timing and His way once we relinquish emotional control of the situation.  God will do His work in us and them too.
Romans 12:19-21  ew Living Translation
Dear friends, never take revenge.  Leave that to the righteous anger of God. For the Scriptures say, "I will take revenge; I will pay them back," says the Lord.
Instead, "If your enemies are hungry, feed them.  If they are thirsty, give them something to drink. In doing this, you will heap burning coals of shame on their heads."
Don't let evil conquer you, but conquer evil by doing good.