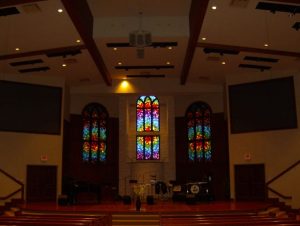 It happens.  When good things come our way and things fall into place pride will creep in.  The friends who helped get us to where we are get overlooked while we enjoy these things.  Suddenly something doesn't quite work the way it should.  While we are working to try to get things back the way they were other things become unraveled.  The next thing we know our little empire is no more and the friends who helped us to get there are also no more.
Pride is a horrible costly attitude.  Pride is what got the devil thrown out of heaven.
There is another aspect of pride.  There are times when good things come to others that we have helped along the way.  We rejoice with them while they no longer notice us.  We try to salvage the friendship and trust but it's no longer there.  We pray for them and wonder if God even notices. 
The Bible clearly states that God knows all things.  If we are the ones who are prideful, God loves us enough to reel us back in.  If others are prideful toward us God will send new friends and new avenues.  God is just in unfair situations and He will bring about His results in His timing.  God notices and He will take care of the ones humbly waiting for Him to act.
Isaiah 57:15  New Living Translation
The high and lofty One Who lives in eternity, the Holy One, says this:
"I live in the high and holy place with those whose spirits are contrite and humble.
I restore the crushed spirit of the humble and revive the courage of those with repentant hearts."