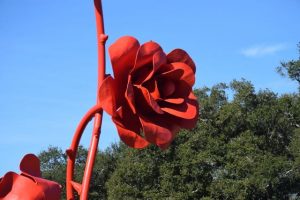 Sometimes we want to know if a person really and truly loves us.  We try to measure their love by how often they bring a gift, call us on the phone or spend time with us.  These are a few outward signs of genuine love that come from the heart yet these same overtures can come from manipulation.  True love from the heart cannot be measured by worldly affections. 
We wonder how we can recognize if another person loves us.  The answer is easy.  We must first love others.  Only then will we truly recognize if love is genuine that comes from a person to us.
If we substitute our name anytime we see the word "love," "you," or "it" while reading 1 Corinthians 13:4-7, it will be a serious wake up call as to how genuine our love is toward others.
1 Corinthians 13:4-7  Living Bible
Love is very patient and kind, never jealous or envious, never boastful or proud, never haughty or selfish or rude.  Love does not demand its own way.  It is not irritable or touchy.  It does not hold grudges and will hardly even notice when others do it wrong.  It is never glad about injustice, but rejoices whenever truth wins out.  If you love someone, you will be loyal to him no matter what the cost.  You will always believe in him, always expect the best of him, and always stand your ground in defending him.