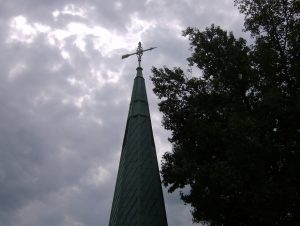 It's true that the devil will try to steal, kill and destroy.  The devil is notorious for throwing the biggest obstacles before us just before a blessing comes.
When we take a look at Joseph, who is one example of many, we see the highs and lows he endured before getting the biggest blessing here on earth.
He was favored by his father yet his brothers sold him into slavery.  He was highly regarded by his dad yet he was cast down by his brothers.  During slavery he was lifted up by Potiphar and was placed in charge of everything except Potiphar's wife.  Once again he was cast down and jailed which was lower than before because he was accused by Potiphar's wife of lust.  He was set up and lied about even though he did a good job for Potiphar.
In jail he was put in charge of the rest of the inmates.  Even at the lowest possible time he was noticed by God and became sought after even in jail.  Each time Joseph was lifted up it was a little less than before.  Each time he is cast down it is a little more than the time before.
One day things will work out even in our own lives as we continue to bounce like a ping pong ball, high at first but slowly bouncing less high each time.
Just like with Joseph there will become a day when God takes our hand and places us higher than ever before.  Joseph was in jail totally forgotten.  Pharaoh sent for Joseph because he needed a dream interpreted.  Joseph interpreted the dream then suddenly he was placed in charge of all of Egypt second only to Pharaoh himself.
As our hopes become challenged where things aren't working out the way they should we are to take heart.  We never know what God is planning behind the scenes.  He is working on hearts.  He is allowing circumstances for others.  He is preparing a need in the lives of others for us.  God is in control.  As we make the best of all circumstances God is waiting to reward.  There are people in all walks of life that need our testimonies and Christlike attitudes.
Genesis 41:41-4  4New Living Translation
Pharaoh said to Joseph, "I hereby put you in charge of the entire land of Egypt."  Then Pharaoh removed his signet ring from his hand and placed it on Joseph's finger. He dressed him in fine linen clothing and hung a gold chain around his neck.  Then he had Joseph ride in the chariot reserved for his second-in-command. And wherever Joseph went, the command was shouted, "Kneel down!" So Pharaoh put Joseph in charge of all Egypt.  And Pharaoh said to him, "I am Pharaoh, but no one will lift a hand or foot in the entire land of Egypt without your approval."