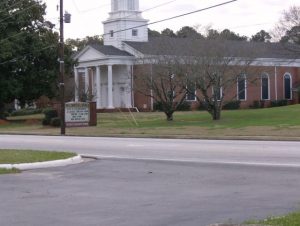 Many times we see great movies from the past on TV.  The old black and whites with low quality sound are some of the best movies still around and the actors are talented.  We still enjoy the time and effort put into these movies because everything was done without the aid of a computer.  A few years after those movies come sons and daughters of these actors using their parent's name to fame.  While some are successful many are not.  They totally depend on their parent's name without placing any effort of their own and they fail miserably. 
There are musicians who do the same.  An older brother or sister is a successful singer.  They made their name by developing skills and talents because that's what God called them to do.  A younger sister does the same to follow in the footsteps of an older sibling and her music is grossly out of tune.  She continues to sing into a microphone with pride in front of a disappointed audience.
These are two examples of following in the footsteps of ones other than Christ.  God has gifted each of us individually and we are to prayerfully follow His leading.  He may have a totally separate plan for our lives outside of the plan He has for other family members or friends.  While one person's acting and singing may lead others to Christ another person's prayers, speaking, visiting, giving or listening to the cry of others will point people to Christ.
It's all about using what God gives us to use.  The one person we may reach could very well become the next president or missionary.  It does not matter how well we are known to the world but how much the world knows Christ through the examples of His people.
Deuteronomy 13:4  New Living Translation
Serve only the Lord your God and fear Him alone. Obey His commands, listen to His voice, and cling to Him.