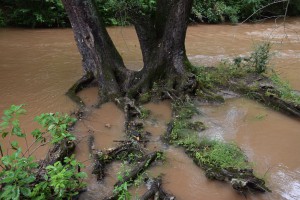 Sin is a fact of life.  It happens to all of us.  There is no way around it because temptations are very real.  Admitting to wrong doings, asking for forgiveness from God and forgiving ourselves is a major key to peace of mind.
Where people get into bondage is when they give in to temptation hoping nobody will notice.  Whether one person notices, a group notices or nobody notices at all the feeling of guilt remains in the heart.  Hiding a wrong doing may work for a while but one of two things will happen.  A person will make statements that lead people's attention away from the wrong doing where the people will not notice.  That person may tell a host of lies or create an illusion of themselves the bring people's attention to a false impression of stardom.  The other thing that happens is the person gets busy trying to forget it.
Unfortunately both escapes come with consequences too big to imagine.  As the feeling of guilt gets buried it becomes harder to return to reality because the sin has been forgotten.  Unfortunately burying sin does not make it go away.  Others will turn angry on family and friends leaving them to wonder what went wrong.  The truth is, honest people are a reminder of the sin they need to acknowledge and be done with it.
Being forgiven of sins and getting peace of mind is so simple that it makes no sense to hold on to it.  It takes a lot of hard work and emotional effort to avoid confessions.  Confession of sin takes only a moment.  The most puzzling thing about hiding wrong doings is that confession is the simple and easy way out.
1 John 1:8-10
 If we claim to be without sin, we deceive ourselves and the truth is not in us.  If we confess our sins, He is faithful and just and will forgive us our sins and purify us from all unrighteousness.  If we claim we have not sinned, we make Him out to be a liar and His word is not in us.