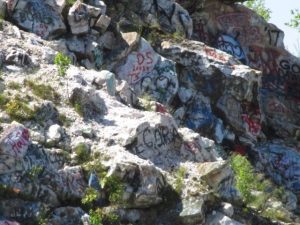 It's everywhere almost.  We walk down the street and fences are covered with graffiti.  Large letters, small letters, designs, images and even profanity covers walls, fences and rocks.  It's not pretty yet the people spray painting these things find it amusing, pleasing or comforting.  For some it's a mark of achievement.  He/she has claimed a specific territory.  For others it's a work of art to admire.  Still others it is a release of damaged emotions.
While we see this graffiti in numerous places it's hard not to wonder what goes on in the minds of these so called artists.  Chances are a good number of these artists are people looking for acceptance.  They are in rebellion from rejections or they are hurt because things never seem to work out for them the way they planned.  Many are just wanting to belong somewhere and will mark a territory they can call theirs.  Graffiti is gaudy and brings attention to say look at me.  Unfortunately people see the clashing colors and symbols but not the real person who left the art behind.  These artists remain lonely and continue to search.  If they could only reveal themselves for who God made them to be people could find them to be lovable with a purpose.  Their inner most spirit is crying out for love but for fear of rejection they remain in their safety graffiti.  Some are trapped in gangs putting their symbols in order to gain points in their group.  Even reaching out to such people they fear turning from the false acceptance of the gang to go with real acceptance.  How do we minister to such people?
Since we usually have no clue who painted these walls of graffiti we can pray that God can reach them.  Each artist is created in God's image with a specific talent.  Graffiti is a mask over the true beauty God created these artists to be.  For this reason it is important to treat all people the same because we never know who might be looking for acceptance.  Something as simple as going from person to person with eye contact, skipping nobody, when explaining something to a small group means a lot to a withdrawn person.  A good morning and a kind wave toward all people is a way to include these people.  Inclusion brings acceptance.  God accepts all people and so should we.  There are certain situations to avoid like abetting a robbery or cheering someone who is wronging another.  It's never right to encourage wrong behavior but it's always right to encourage all people to do their best.
While these artists view their artwork as a comforting beauty, God sees each one as a beauty within that if radiated the way God intended can make a big difference in the world.  It's important that all people use what God gives them.  It's ok to not be ok in the eyes of certain people because in God's eyes each person is a masterpiece uniquely created for His purpose.  All people should be encouraged to be themselves because there are no replacements for anybody.  All people have a purpose in the eyes of God.
1 Peter 4:10-11 New Living Translation (NLT)
God has given each of you a gift from His great variety of spiritual gifts. Use them well to serve one another.  Do you have the gift of speaking? Then speak as though God Himself were speaking through you. Do you have the gift of helping others? Do it with all the strength and energy that God supplies. Then everything you do will bring glory to God through Jesus Christ. All glory and power to Him forever and ever!  Amen.