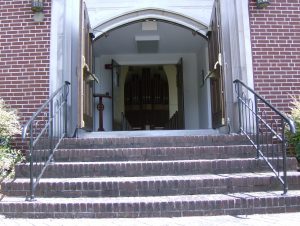 Climbing stairs isn't always relaxing and easy.  The higher the climb the more energy it seems to take.
With each new trial comes a new step up as obstacles are overcome.  Growing in grace means to step away from a habit that is like a heavy weight.  Habits can be almost like ropes that prevent any advancement at all.
Through Jesus Christ, Who breaks all bonds, all things are possible.  Walking with Christ is to take His hand.  He pulls us upward toward Him.  Habit by habit, patterns by patterns, hurts by hurts and forgiveness by forgiveness He pulls us up step by step.  The hardest obstacles to overcome are the ones we try to accomplish on our own.
John 1:51
Then He said, "I tell you the truth, you will all see heaven open and the angels of God going up and down on the Son of Man, the One who is the stairway between heaven and earth."