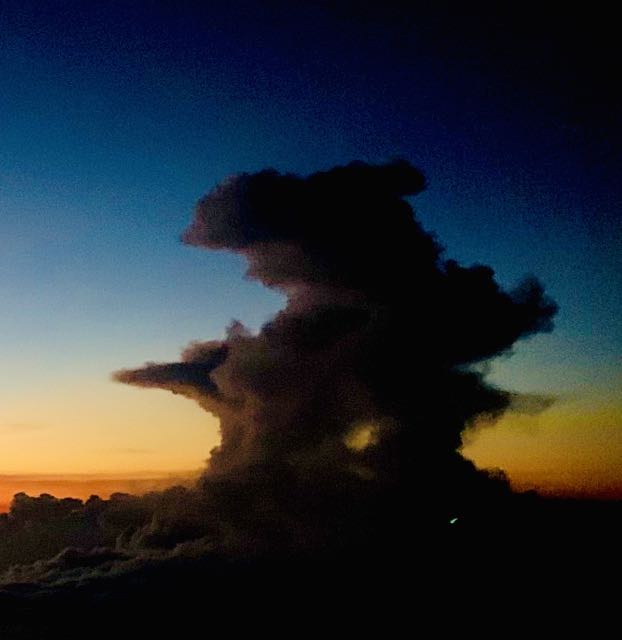 When we walk through storms we tend to see only the storm itself. Sometimes the sky can be as dark as pitch and the rain pounds with drenching drops on us. We can see only an inch or two in front of us yet we know we must keep moving. What lies ahead of us is unknown, yet we know we cannot stay put.
Emotional storms are the worst. People issues are the worst of the worst. Someone we love passes away. A trustworthy boss suddenly fires us. People turn on us for no reason. Politicians for whom we cast our votes do the opposite of their campaign promise. A friendship we had for years suddenly turns cold. We are left in a dark emotional void and see no way out. There is no peace because we did nothing to promote these storms and no recourse we take will make things any better. We see only the storm whirling around us. When we face these times it's important to ask God to allow us to see the situation through His eyes.
This photograph is an actual storm seen above the clouds by ones in an airplane. Every fine detail can be seen by the naked eye from the outside looking in. The shape, size and intensity of color is very real and identifiable. Each strike of lightning is clear. Around the storm is sunlight. The sunlight shines peacefully on all sides of the storm. It's as though the sunlight is embracing the storm. This is what can be seen from an airplane.
God sees above the storm and above the peaceful sunlight. He embraces not only the storm but the sunlight too. God sees the outcome which is brighter than any sunlight we can identify. God also sees our broken hearts as we walk in the middle of a fierce storm. He protects us moment by moment with His loving mercy. When we consider His loving kindness and the brightness of His outcomes we can rest comfortably in the shadow of His wing. We may not see beyond our nose but we can place our trust in His holiness as we wait for Him to brighten our circumstance.
Psalm 57:1 New Living Translation (NLT)
Have mercy on me, O God, have mercy! I look to You for protection. I will hide beneath the shadow of Your wings until the danger passes by.