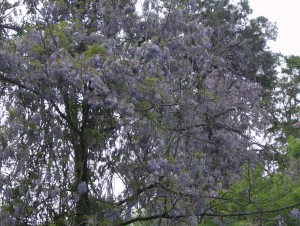 Wisteria is one of the most beautiful dangling plants ever created.  If groomed properly it can be a beauty that we can't take our eyes off of.  However wisteria out of control destroys.  It will completely cover a strong healthy tree in a very short time.  From the outside it is beautiful with all the purple dangling flowers going high onto the tree.  What goes unnoticed is the tree underneath.  It eventually dies.  The cool shade and beautiful spreading leaves the tree offers can no longer serve its purpose.
There are people who serve God and have a purpose.  Many people benefit from their devotion to God by the encouragement they give.  Slowly the pleasures of the world creep in.  These pleasures offer excitement and bliss taking over any thoughts of serving God.  The witness and ministry that once encouraged others have now become confusing and hurtful to the very ones they helped in the past.  Hopes are crushed and witnesses are ruined.  Nobody benefits from the fleeting pleasures of the world.  These temporary pleasures hurt everybody.
1 John 2:15-17
 Do not love this world nor the things it offers you, for when you love the world, you do not have the love of the Father in you.  For the world offers only a craving for physical pleasure, a craving for everything we see, and pride in our achievements and possessions. These are not from the Father, but are from this world.  And this world is fading away, along with everything that people crave. But anyone who does what pleases God will live forever.