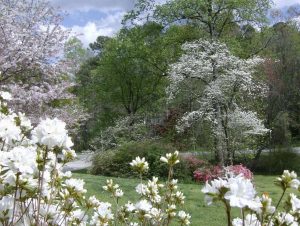 We wonder sometimes what heaven is like.  We often ask ourselves are our loved ones happy and pain free.  While it's true that the full understanding and impact of heaven will not be known until we get there the Bible speaks very specifically about certain things.
One by one we assemble in the glorious place called heaven.  While we see a long period of time go by and think about those who have been received into heaven, God is the same yesterday, today and always.  It may be one of our loved ones passed on fifty years ago but to them it's as though they just got there.
Earth is the only place with a clock.  Heaven is not bound by the restrictions of time.  It is a joyful place with too many angels to count and the beauty cannot be described in human terms.   Those who have already assembled are made perfect.  They are pain free and joyful.  Heaven is a place where we see Jesus.
It's heart breaking when a loved one is received and we are still left but the glimpses of heaven explained in the Bible give us all hope that our separation is very brief.  We too will assemble one day and join our ancestors.  In the mean time it's important to point others to the love of Jesus Christ while we have the time here. 
Hebrews 12:22-24   New Living Translation
No, you have come to Mount Zion, to the city of the living God, the heavenly Jerusalem, and to countless thousands of angels in a joyful gathering.  You have come to the assembly of God's firstborn children, whose names are written in heaven. You have come to God Himself, Who is the judge over all things. You have come to the spirits of the righteous ones in heaven who have now been made perfect.  You have come to Jesus, the One who mediates the new covenant between God and people, and to the sprinkled blood, which speaks of forgiveness instead of crying out for vengeance like the blood of Abel.