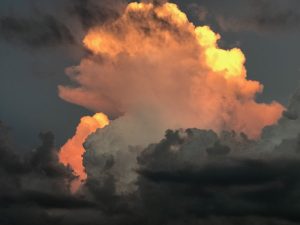 God created the sun and moon in such a way that it creates a gravitational pull.  This pull causes the ocean to have waves.  The waters are pulled one way then another and it never stops.  If the waves ever stop then the pull of gravity has stopped.
Grief is the same way.  A person we love is called home and it creates a void too deep to explain.  Our heart breaks knowing our loved one is not with us.  Yet we know our loved one is in his permanent home.  We strive to place this person's memory in the loving hands of our Father yet we cannot let go.  It is this pull that keeps our loved one alive in our hearts until the day we are also called home.
As we go through these voids in life where grief is sometimes unbearable we can know our grief is an act of love that still gives to our loved ones.  Over time we transition from looking back with sorrow to looking ahead with assurance that the fondest memories are yet to be made in heaven.
If grief or fond memories fade away quickly then we have not loved. 
1 Corinthians 15:54-55  New Living Translation
Then, when our dying bodies have been transformed into bodies that will never die, this scripture will be fulfilled:
"Death is swallowed up in victory.
O death, where is your victory?
O death, where is your sting?"