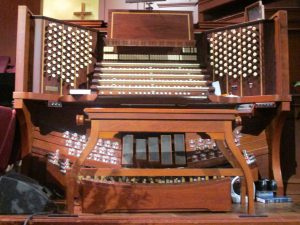 There are lessons to be learned from the church organ.  One of the main points to the organ is that it has only one player yet many keys.  Each key has its own unique sound that can be enhanced according to the organist's preferences.  While he can make some keys sound like a melodious flute he makes other keys blast like a trumpet.  There are keys beneath the organ that are used by the feet of the organist.  Most people do not see these keys but without their use many songs would be very shallow sounding because their bass foundation is not heard. 
The contributions in life is similar to that of an organ.  Each of us is our own unique key producing special praises to our Lord.  When we fully obey God He can use us to His fullest.  We make ourselves available to be adjusted according to His preference.
Many of us have experienced hearing an organ played that has keys missing or out of tune.  All focus goes on what is wrong and the keys that are in tune lose their value to the listening ear.  Imagine if that missing or out of tune key were us.  Most of us do not realize the value of obedience to God and the damage it does to the big picture when we are disobedient. 
While some may think their key on the organ doesn't matter because of the particular tone it produces, God hears the entire song.  If a key is not there, it matters because each one is equally important.
Romans 12:4-5  New Living Translation
Just as our bodies have many parts and each part has a special function, so it is with Christ's body.  We are many parts of one body, and we all belong to each other.