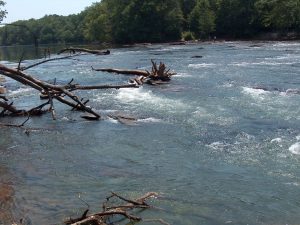 Many times the strongest presence is the most silent.  There are examples we see each day.  A school classroom can be out of order where students are running, screaming and throwing things.  A teacher can continue to instruct and follow all the rules to bring order to the classroom yet some students will still disobey.  A Principal walks into the classroom and just stands and suddenly all is quiet.  He doesn't say anything, he just looks at the students who are out of order.  His parting words are that he hopes he doesn't see this again.  Somehow these students know a strong presence is there watching and they become well behaved.
Things are the same in our lives.  We have a loving yet powerful God Who always watches.  He sees the floods of hardships and natural disasters that hit our lives.  He hears our prayers and as we focus on God He will silence the causes of the hardships. 
During the times we see no results we can know that He is dealing with the source and not the effects.  Effects will either suddenly or gradually dissolve depending on the type of trouble causing our hardships.  The key is to remain focused on the strength of our God and not the size of the hardship.  God is able and He is all powerful.
Psalm 93:3-4  New Living Translation
The floods have risen up, O Lord.  The floods have roared like thunder; the floods have lifted their pounding waves.  But mightier than the violent raging of the seas, mightier than the breakers on the shore—the Lord above is mightier than these!