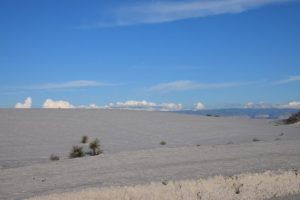 People travel for miles to get a glimpse of the Grand Canyon or to climb Mount Everest.  These are two of the greatest wonders God created.  They can be seen and touched.
There are every day wonders all around such as birds, each with their own unique chirp or a large variety of flowers and trees with their own fragrances.
When God created humans He included up to five senses for people to experience first hand the beauty of God's handiwork.  He created cool rushing waters of a river to soothe tired feet.  He allowed trees to grow by the riverbank that have lived for more than four hundred years.  Some trees are so large that it takes several people holding hands to fully circle around those trees.  These are physical displays of God's beautiful workmanship.
There are masterpieces even greater than these.  Joy, peace, contentment, love, trust and hope are all spiritual wonders of God.  They cannot be felt with human hands or heard with human ears.  Eyes cannot see them nor can they be smelled or tasted yet they are very real.  These are the wonders God places in the heart. 
All things point to God.  God is beautiful in all things.  God's greatest display of love is Jesus Christ Who was here for a season as a Man is here for all seasons spiritually for everyone who accepts Him.
Colossians 1:16  Living Bible
Christ Himself is the Creator Who made everything in heaven and earth, the things we can see and the things we can't; the spirit world with its kings and kingdoms, its rulers and authorities; all were made by Christ for His own use and glory.