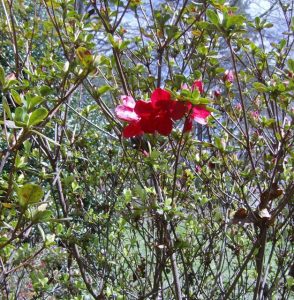 God's timing is always perfect.  It's precious how God can take simple illustrations from nature to reassure us He will never forget to answer prayers.
In the spring flowers bloom.  Many many flowers parade their beauty.  All in one accord they blanket the land bringing a brilliant array of colors almost too beautiful for words.
Within just a week or two they wither on the stems leaving behind brown hulls that cover the brand new green leaves.  This scene is not very pleasant to look at.  It's like everything became worse than what it was in the dead of the winter.  There is nothing about it that attracts the eye.  Suddenly there is a lone flower that blooms among all that remains of the brilliant spring.  All attention goes to that one flower.  It alone is a pleasant reminder of life at its fullest.  It alone is hope that God will deliver after all has come and gone.
As for us, God has not forgotten our prayers.  Opportunities may have come and gone and any activity of hope is not visible. 
Just at the right time His answer comes.  All focus is on His answer because it is a beauty from God after all has been said and done.  In God's eye, there are no late bloomers.  Many times His absolute best is displayed for all to see.
Galatians 6:9
And let us not grow weary of doing good, for in due season we will reap, if we do not give up.