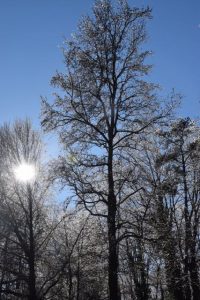 This world is not what it was fifty years ago or even ten years ago.  Morals have decayed. People dart to and from places too busy to take note of things around them.  Technology is so advanced that older people and family members no longer get personal visits to include a hug.  Church pews sit empty even though the gospel is being preached because people are absorbed in the creation and not the Creator.  Even in churches many families no longer sit together as the younger generation goes to a different venue for church.
These symptoms of today's times are no surprise to God.  In fact God warned us in the books of Romans, Revelations and even Daniel that these times were coming.  These times are here now.  People flock to places that give messages that make them feel good about themselves and even to places that make wrong seem ok while the truth is avoided. 
We live in a time where people do not want to change for the better but instead change rules to make it ok to harm others and even themselves.
The Bible also speaks of a time when these habits will be punished and evidence is quickly pointing to the fact time is near.  TV Evangelists, family, friends, Bible based churches and even the world as a whole questions how much longer can this go on.  Various countries around the globe have a few people to rise up in power.  The plunder of the poor people sit in their storehouses as they become richer and the people become poorer.  Many who are going through these horrible hardships wonder where is God.  Why hasn't God delivered and/or punished?
God promises to take care of all who continue to follow Him in all situations.  His punishment of this nonsense is right around the corner but it's important that we remain true to Him.  It's important to take care of His business and His people so He will surely take care of ours.  God has sent us family and friends to care for.  He will never approve of the busyness of the world to take over our responsibility to love one another. 
The devil is famous for enticing us with things that keep us busy and unfortunately church is the first thing that is trimmed from these schedules.  Usually the next trim is elderly family members.  Visits are substituted with these grand pads or a more elite nursing facility.  Being too busy slowly takes "love" out of the picture.
While there is still time it should be a priority to show compassion to one another.  Lend a listening ear or make that phone call or go visit someone.  These are the type things that please God.  Nobody should be too busy to do the right thing.  Draw close to God and He will draw close to us.  Even in His divine punishment of the nonsense going on today He will shine His light on us.  God loves us so much that He sent His Son, Jesus Christ, to die for us that we can have everlasting life.  It's time to place focus back on God so He will place His focus back on us.
John 8:12 New American Standard Version
Then Jesus again spoke to them, saying, "I am the Light of the world; he who follows Me will not walk in the darkness, but will have the Light of life."