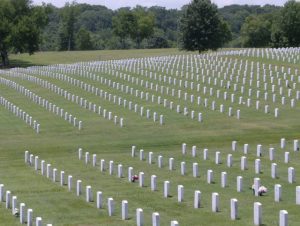 There are multitudes of graves of soldiers who either died in battle or passed away later in life after serving in the military.  Each man or woman buried beneath these markers represent a person who cared.  Their service was given with us in mind.  Their own lives were put aside so they could follow commands of their officers.
They sacrificed time, effort and their own desires to make things better for the people who live today. 
Those still and silent markers are a gentle reminder that these soldiers love us.  There is one more grave but it's empty.  Jesus loves us with a cross.
If there are moments when feelings of loneliness or depression try to take over it's time to take a quick glance around.  A lot of love was demonstrated to us before we were even born.
John 15:13  New Living Translation
There is no greater love than to lay down one's life for one's friends.