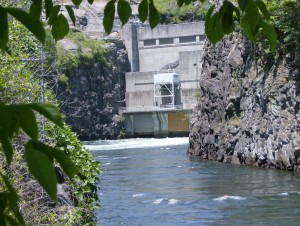 There is great power behind a river dam.  When used properly it creates electricity that benefits everyone.  It prevents too much water from flooding land where people live.  It provides necessary water at the proper time for crops to grow.
Occasionally when water needs to be released sirens blow to alert everyone to get out of the way.  Many warnings go out to give people time to step away.  There is much strength in these dams yet as powerful as they are, compared to God's awesome power it doesn't even tip the scales.  Even with His power and might, our Lord loves us so much He died for us.  He hears and answers prayers.
Imagine what happens when we call on God to help us and He releases His mighty power onto the object of our prayers.  The burdens have to flee or be trampled by God.  When we don't see results right away it means power travels further before reaching us.  As it travels it gathers even more strength.  God knows exactly what He's doing and He makes no mistakes.  His love is all powerful and all gentle.
1 Peter 5:6-7
 So humble yourselves under the mighty power of God, and at the right time He will lift you up in honor.  Give all your worries and cares to God, for He cares about you.