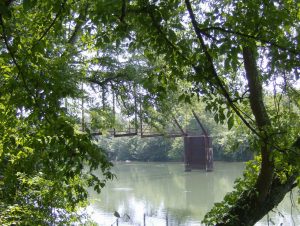 It's difficult at times to avoid the trap of pride.  There are people who continually boast and others believe them and want to follow along.  As these people become more prideful they determine who can be in their little group or who can help them achieve their agenda.  Their fame becomes broader and it appears that the ones not included are totally left out.  However if the agenda is not built on the foundation of Christ the empire will topple.
Pride is like a triangle planted firmly on the ground upside down.  Everything depends on that one small point.  As prideful agendas start to tip the triangle it must hurry to the other side and boast even more to bring back balance.  As pride gets higher it becomes more broad because the triangle increases in size across.  The bigger the size the more renown pride gets.  People rush to want to be a part of such fame and many are willing to endure harsh treatment from a prideful person.  Pride is a trap that ruins everybody who indulges. 
If a person is accepted in this famous group pride will engulf them.  Those excluded are hurt and made to feel shameful.  Pride hurts everybody whether included or not.  The only one really happy is the one keeping it going but even that person has to continually be on guard that plans are not tipped.
The Bible speaks very strongly about pride.  It is pride that got the devil cast out of heaven.  It is the devil's pride that entices people on earth.  It is pride that will ultimately take the devil to the pit.  It is important to realize that it is better to build on a firm foundation which is Jesus Christ.  The love of Jesus is broad and it is unshakable.  Efforts built centered around Christ are placed on the already firm foundation and it will never topple.  Even if efforts fail the foundation will not.
It is amazing sometimes how long prideful situations can continue but there will be a day prideful efforts will topple.  If pride does not fall in this lifetime it will definitely fall before God in heaven.
For this reason it is far better to place efforts on the firm foundation of Christ than to add additional pride to an already teetering empire for a moment's fame.
Isaiah 2:12  New Living Translation
For the Lord of Heaven's Armies has a day of reckoning.  He will punish the proud and mighty    and bring down everything that is exalted.