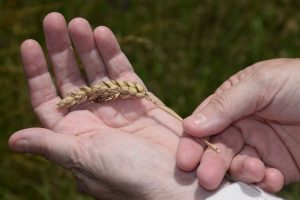 It's a common occurrence for a person who loves Jesus and follows His instructions to suddenly be faced with a calamity.  Our first prayer many times is to ask why this is happening.  We do what is asked.  We pray.  We go to church regularly.  What could possibly be wrong?
It could be we have done nothing wrong at all.  Occasionally God will turn us upside down like a shaker of salt in order for us to salt the situation around us.  Knowing this is a strong possibility it is right to pray asking what is our next step.
The love of Jesus Christ is meant to be shared otherwise our usefulness will become flavorless and will not be beneficial to anyone.  He wants to use us in a mighty way and sometimes He finds it necessary to shake us into a situation where we can be used.
Matthew 5:13 New Living Translation (NLT)
You are the salt of the earth. But what good is salt if it has lost its flavor? Can you make it salty again? It will be thrown out and trampled underfoot as worthless.