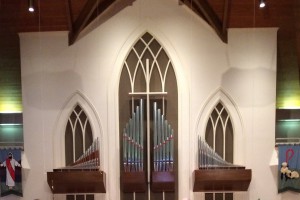 The body of Christ consists of all His people.  Each person is important and completes His big picture.  While it's easy to look at some people and think they are more important because they are more visible, it is not true.
Let's take the pipe organ for example.  There are numerous pipes large and small.  They are all lined up in a way that is beautiful to see.  What if one was missing.  The empty spot would be noticed most of all, no matter how small of a pipe.  Just because it isn't the size of one of the gigantic pipes in the back doesn't make it less important.
What about sound?  What if one of the middle sized pipes thought it wasn't important so it decided to not play?  That middle pipe feels that because it's not cute enough to be small and in the front or glorious enough to be big standing tall in the back it is not important.  Then time comes to play the beautiful hymn, "How Great Thou Art" and his note is missing.  How offensive it would be to a worshiping crowd to hear, "then sings my ……… my savior God to thee." 
There is no such thing is an unimportant person.  Each talent is unique and paints God's big picture.  There is a flip side where people want to serve and are turned away.
What if a person is told that because they are an instrumentalist and not a vocalist they do not fit the format therefore their talent is refused.  What if a person is a good vocalist and their talent is turned away because there is a set group then asked to stand behind the set group in the choir.  What happens when a very gifted vocalist comes to audition for a solo in the Christmas pageant and told all solos are done by those same select people?  Surely this doesn't happen in a church.  If so, it will not be long before the church consists of only these select people and all others silently leave.
The church body consists of all God's people and there is a serious need for each one.  Where there are no needs, there is no room to grow.
1 Corinthians 12:14-16  New Living Translation
Yes, the body has many different parts, not just one part.  If the foot says, "I am not a part of the body because I am not a hand," that does not make it any less a part of the body.  And if the ear says, "I am not part of the body because I am not an eye," would that make it any less a part of the body?